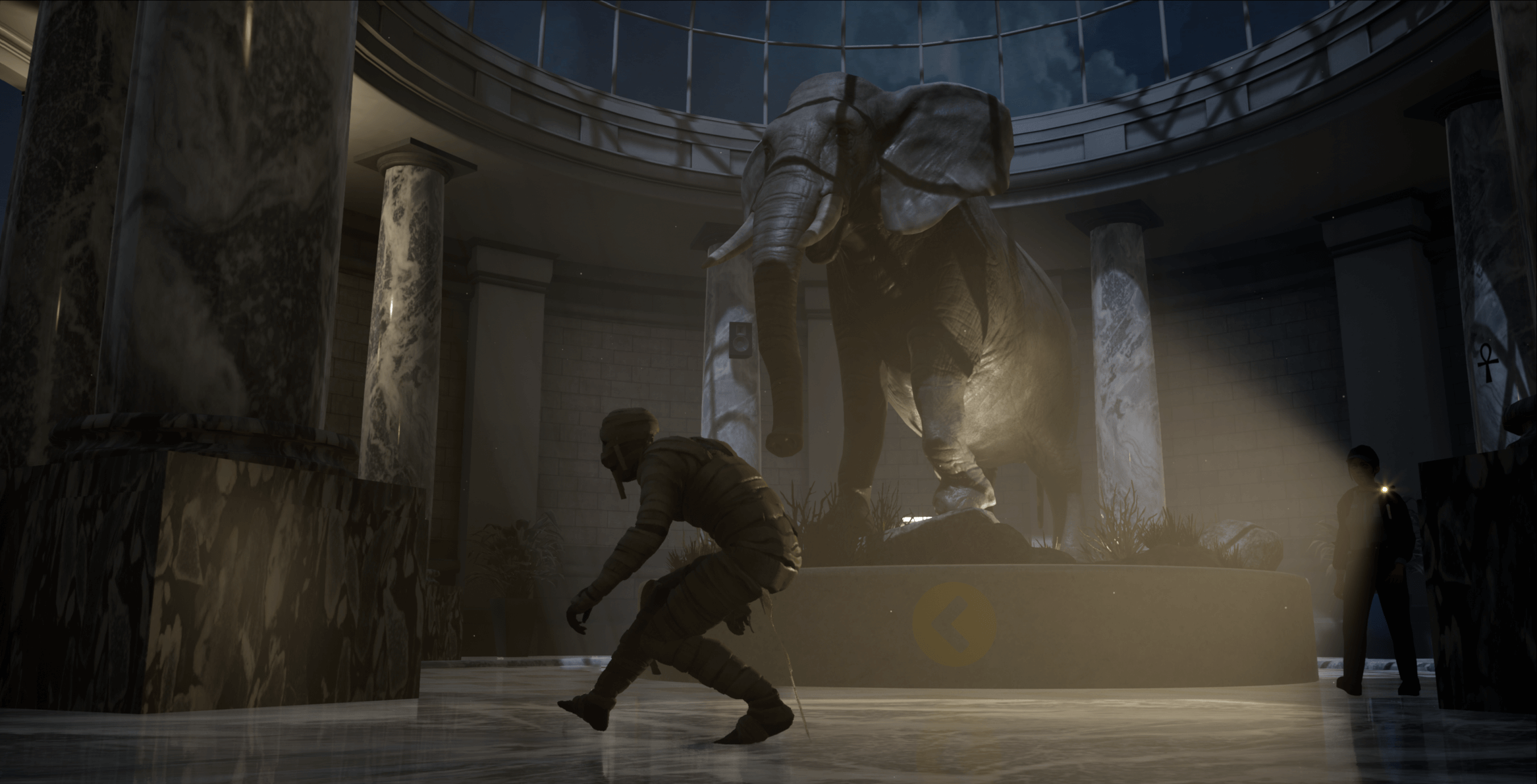 SneaKEY Mummy
A downloadable game for Windows
It's been a long time but due to an unknown event you woke up from a long slumber inside a sarcophagus at a museum.
Your mummy friend is still sleeping next to you.
Search the museum for keys, dodge guards and solve puzzles to free your friend from his coffin so you can spend the rest of eternity together.
This game was made as an entry for the 2020 Epic MegaJam.

We are currently continuing development of the game!
Follow us on twitter: https://twitter.com/SlappyInc for updates and join the discord to give feedback and or suggestions you would like to see in-game! http://discord.gg/fGH46Ya
gameplay Instructions

Controls Keyboard:
WASD: character movement
Mouse: camera movement
Spacebar to jump
E to interact
Right Mouse Button to aim
Left Mouse Button to throw
Control or C to crouch
Shift to run
Esc to pause
Controls controller
The controller follows a pretty standard layout:
Left joystick: character movement
Right joystick: camera movement
A to jump
X to interact
Left Trigger to aim
Right Trigger to throw
B to crouch
Left stick press to run
Start button to pause
Content that was created before the jam.
Music:
Various sounds are gathered from Soundly
Music from bensound and storyblocks
Assets:
Advanced LocomotionSystem as base for the characters but heavily modified for the implementation by adding custom mocap animations and replacing existing animations, sounds and interactions to fit our game and mechanics
Google fonts: AmaticSC and EastSeaDokdo
Aztec assets reused from our 2020 spring jam submission Aztlan Uncovered, retextured and modified to fit the new game.
All museum props / murals are modified assets from downloaded cco scans / personal scans of real museums. Modified and retextured to fit our game.
Megascans: couple of marble textures we modified and stylized to fit our game.
Download
Click download now to get access to the following files:
SlappyInc_SneaKEYMummy.zip
567 MB
Comments
Log in with itch.io to leave a comment.
Show post...

GREAT JOBS ..and sorry for my lag from my pc :D
Loved it! But it's too hard mate. Wonder why this isn't at the top of the Itchio. I made a very similar game, would you like to play? Maybe you like it